You asked ok, more realistically, you shouted and I listened … yes, New Orleans based artist / bedazzled ray of light, Ashley Longshore is back on the podcast today. I turned the interview over to you guys this time, pulling questions you left on my Instagram feed last week. Well, Ashley answered everything from advice on pricing work, and how to collaborate with big brands – to her thoughts on vajacials which is a real thing, btw, and who takes those Instagram photos of her sitting on the toilet. Yep. We cover it ALL. My favorite part of this whole interview though, is the answer she gives right off the top. Question number one, sent in by one of you: "What is the first positive thought ashley actively focuses on when anxiety hits hard." Her answer is beautiful and something every single one of us should be doing every single day… right after we brush our fangs!  You can listen right up there under those diamond-encrusted / golden chompers, or subscribe right here.
First up, true vulnerability in all its glory… Ashley's brand new, very powerful self portrait series:
Ashley as: Clown; Housewife; Sex Goddess; Businessman; Wonder Woman… yep, that just about covers it. Ahhh, so many expectations from the world, so little time. I couldn't help but wonder if these pieces were inspired by this recent photo of Ashley on holiday last month:
Yessssssss! How absolutely fabulous is THAT shot!? What a babe. Now, speaking of being unapologetically vulnerable, the two 'on the toilet' photos one of you had questions about: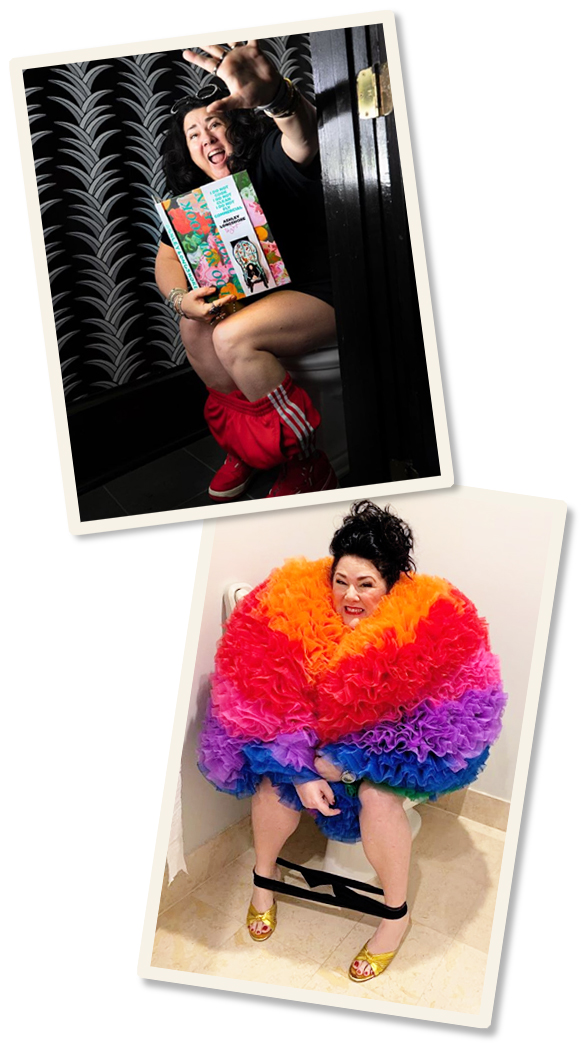 Hilarious! That said, she can get pretty fancy in photos too… you know, while doing things like guest-judging on Bravo's Project Runway:

View this post on Instagram
Hello, style. I loooove that photo taken by Grady Brannon on the staircase with Ashley and her fabulous friend, fashion designer Christian Siriano, so I had to pop it in the post too.
And, of course, the coloring pages she just released a few days ago:
Love, love, love!!! Keep your kids, or yourself, busy by downloading all of them right here and then email a photo of your final masterpiece to Ashley at: hollywood@ashleylongshore.com !
And finally…
YES! Let's all get up, make our beds, brush our fangs, and throw on our big girl panties so we can get through this crazy time TOGETHER. Thanks to Ashley for doing this with me again!, thanks to the Thrive Network for supporting the episode, and huge thanks to YOU for listening! Stay home. Wash your hands. There will be more ART FOR YOUR EAR next weekend. ~ Danielle xo
ps. If you wanna get in on the 'distracting yourself with art' daily hashtag, please do! There are now over 8000 posts and it's really inspiring and fun to be part of. See ya on Instagram at #30DayArtQuarantine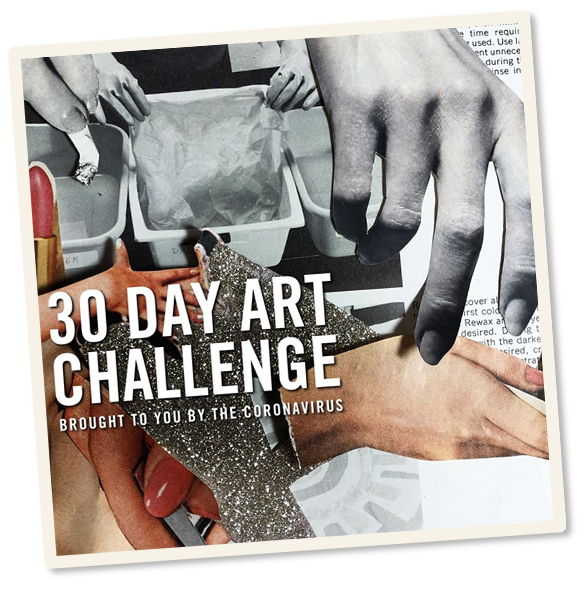 Other links:
Download Ashley's coloring pages
Food Banks to donate to: USA / Canada
#30DayArtQuarantine on Instagram
Bright Minded with Miley Cyrus Ashley's episode is coming soon!

Email address to use if you want to send Ashley your resume: ashleyart@ashleylongshore.com