We are totally captivated by the intricate beauty of our artist Fran Giffard's natural illustrations, and we are sure you will be too.
Fran works directly onto her personal Moleskine diaries using watercolour, ink, gouache and graphite pencil, capturing the wonder of exotic and more commonplace birds. The result is a vivid collection of work with an intriguing personal slant. We caught up with her recently to ask her more about her and her beautiful work.
Carol: What is the inspiration behind your artwork?
Fran: I'm heavily inspired by ornithological natural illustrations, particularly those of John James Audubon, Edward Lear, and John Gould. Their works are very beautiful; the birds depicted are always poised and carefully composed. I feel there is a real respect for each species and I wish to continue in this tradition, making each of my birds as colourful, composed, and beautiful as possible. I'm also inspired by the different birds I encounter in real life: from Goldcrests at Crystal Palace Park to yellow Kiskadees in Bermuda
Carol: What made you use your personal diaries as the paper you draw on?
Fran: I was given a Moleskine sketchbook during my degree at Camberwell College of Art. I wanted to fill it with beautiful drawings, but was concerned that I'd mess up and ruin a valuable page. I decided to do some practice drawings in my Moleskine diary and found that I could draw more freely and spontaneously over my diary pages than expensive blank paper. I also loved the juxtaposition of my hand-written notes alongside my colourful birds. It was a happy accident and my work developed from there. From a distance my pieces have the appearance of a field journal. However, when you look closer, you see the text is something different and a bit personal. There is an odd humour there, which I like.

Carol: Have you always loved drawing birds?
Fran: I think everyone starts off loving animals, and I'm no exception. Museums like the Horniman and the Natural History Museum in London have consistently been one of my favourite places to go and see the taxidermy animals. I would often sketch the specimens, especially the birds, and one of my earliest bird drawings of won me a Blue Peter Badge. I was seven at the time and I'm still very proud of it today. My dedication to ornithology has only strengthened over time.
Carol: – How do you choose what bird to paint and what is your process?
Fran: Each drawing starts with the unbinding of a page from my Moleskine diary. I then decide which birds can fit in the space left by my diary notes. An emptier page can fit a larger bird – perhaps a peacock – whereas a full diary page may only be able to accommodate a small species. It's a compositional challenge that I really enjoy. I sketch the outlines of the particular bird I've chosen and then add layers of watercolour, ink, gouache, and more pencil details until I'm happy.
Carol: How long does it take to complete a piece?
Fran: Moleskine diary paper is very delicate and unforgiving. I have to do the initial sketches carefully as a mark out of place is impossible to erase completely. The diary paper was also never meant to be for painting on. As a result I have to use many layers of watercolour to give the birds the intensity that I want. Each layer has to dry fully before the next can be applied, so a single drawing can take up to a week to complete.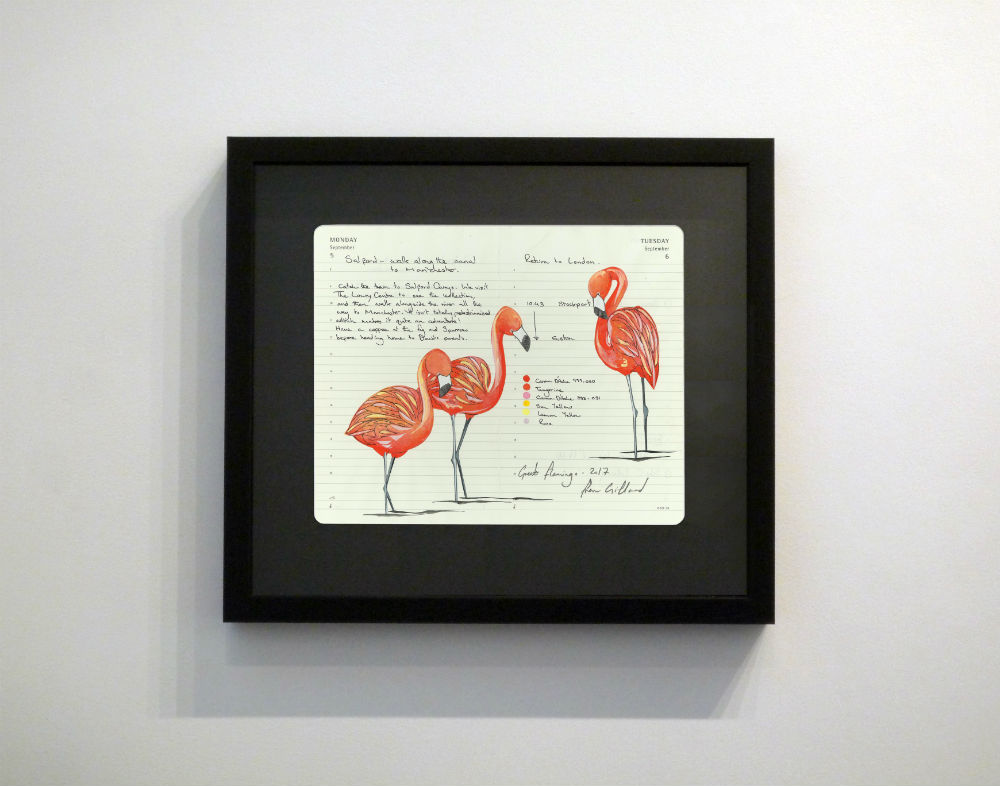 Carol: Do you have a typical question that everyone asks you about your work?
Fran: Strangely, I often get asked if my artworks are collages! I keep my work neat and tidy, to the extent that some people think the birds are painted separately, cut out, and then pasted onto the diary page! I'm also asked whether the diary entries are real – they are!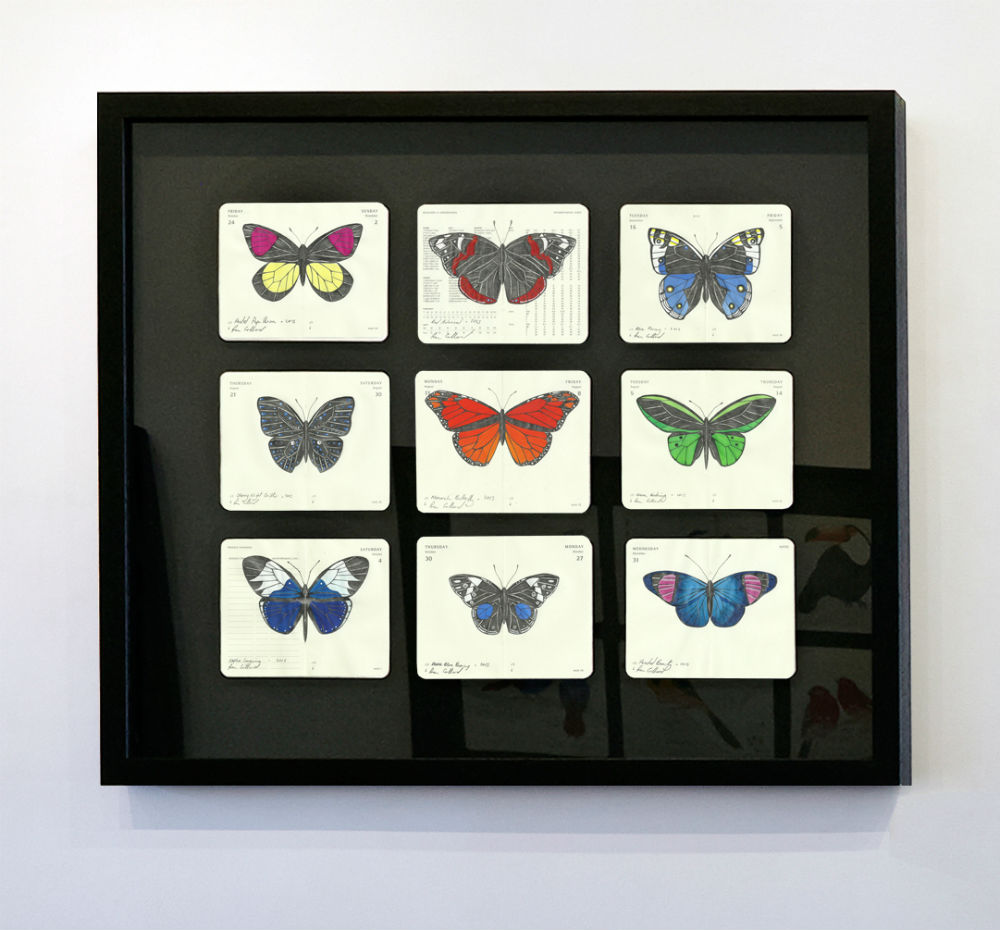 Carol: What is your studio like and where is it?
Fran: I work from home in East Dulwich. My studio is mostly a very large desk alongside a book shelf and plan chest that houses my collection of ornithology books, watercolour sets, Moleskine diaries, a growing assortment of pencils and inks, and a few bird cages and curios.
Carol: What do you like doing when you are not painting?
Fran: I love to cook. Working from home means I can juggle painting birds with chopping onions. I find cooking relaxing and immediately rewarding. I might have a frustrating day art-wise, but I can conclude that day with cooking and eating something delicious, and get a real feeling of achievement from it. My diary entries often include recipes and favourite dishes.
I also love gardening, and over the course of three years I've been turning a weed-pit, into a flowering bumble-bee paradise. There are a number of regular birds, so I can occasionally sketch in my garden. There is a friendly robin who sings to me, which feels very special.
A Ponder by Fran Giffard
Carol: What is your perfect weekend?
Fran: A long walk in the country with good weather. My favourite route is the Eynsford Circular which is around fourteen miles long. It takes me through picturesque Kentish countryside with lots of bird life, and completely justifies having a very large pizza for supper!
About Us
We're Amy & Carol. Let us help you get that perfect artwork for your home! We sell amazing affordable artwork online & offer a great art advisory service.
Why not browse our artwork here